As its name suggests, Bali, Indonesia-based Expat Roasters (styled "Expat. Roasters" by the company), has always carried with it some non-local influences in its approach to coffee.
Yet as the coffee roasting company has steadily grown over the past few years, while cultivating relationships with nearby coffee growers and wholesale accounts, it has expanded its own sphere of influence at home and abroad.
The coffee company's latest initiative is an eco-friendly wholesale packaging solution involving refillable wholesale coffee tins as opposed to traditional bags. In this case, the influence Expat and its home island is reciprocal.
"Bali is very forward-thinking in terms of climate change," Expat Roasters Co-Founder and Head Barista Shae Macnamara recently told Daily Coffee News. "They've eliminated plastic bags in stores and work very closely with businesses to eliminate emissions and pollution."
Expat is currently providing wholesale clients with 2-kilo tins with one-way valves that are refilled at their respective shops, while the company has also converted its bag packaging to 12-ounce tins that can be swapped out in subsequent purchases.
All of the coffees for those tins are passing through the company's production roastery, which features a 15-kilo VNT roaster from Vietnam and a 10-kilo Toper from Turkey.
"Our roastery is about 30 kilometers from the [coffee] growing region," said Macnamara, who originally hails from Australia, where he has been a longtime barista and consultant. "One of our projects is to go the farms and discuss how we can improve growing techniques and increase quality and yields for the future."
Since launching in Bali in 2017, Expat has increasingly been working with growers to help boost its own supply line while also supporting the island's specialty coffee industry overall.
"We work with the farmers to build greenhouses, raised beds, and better infrastructure so they have higher yields and can charge more for their coffee," said Macnamara, a past board member of the Australian Specialty Coffee Association. "The biggest thing we want to provide for coffee producers here is education."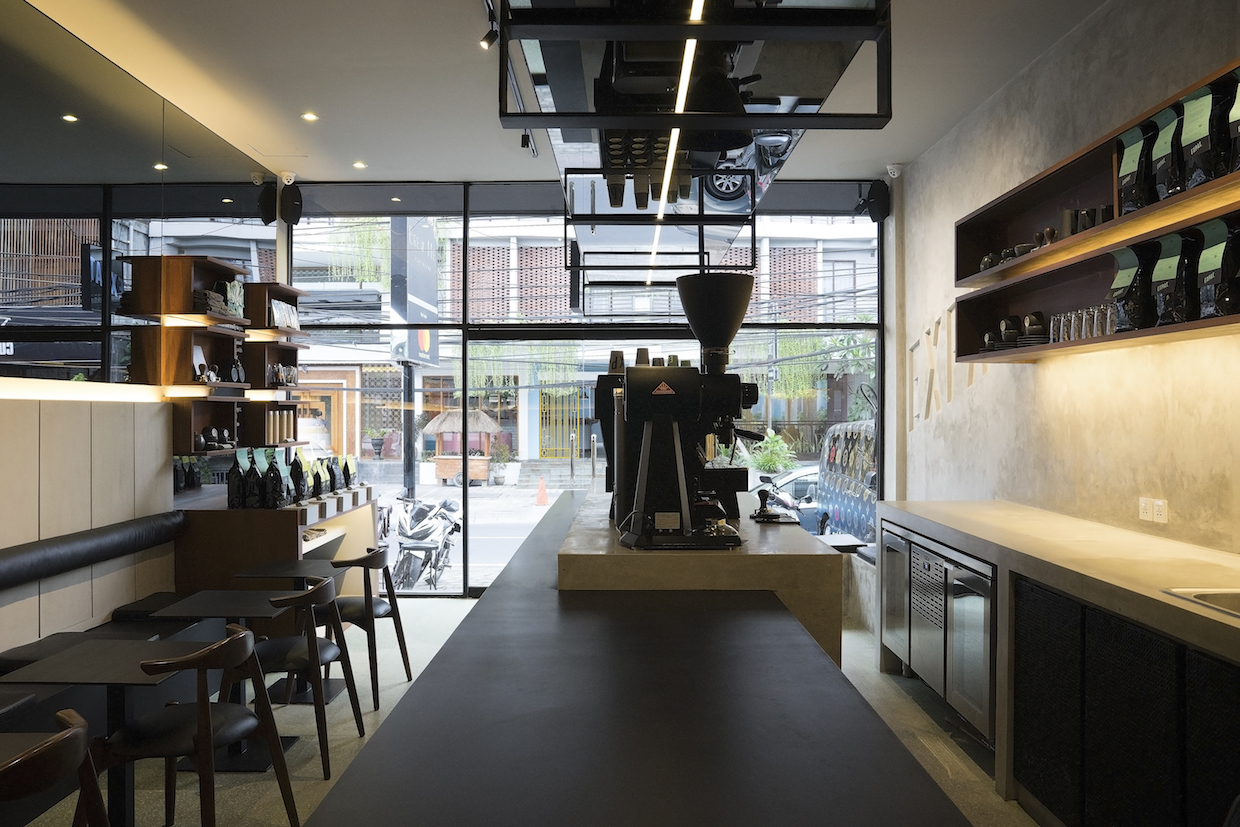 Macnamara and the Expat team do also look abroad for various exotic and decaf offerings, which plays more towards the company's desire to expand the coffee appetites of consumers.
"Most of Bali hadn't tasted a Costa Rican honey process or didn't understand what a Monsoon Malabar coffee was," said Macnamara, who won Australia's Coffee in Good Spirits championship in 2016. "One of my goals was to bring that coffee to Bali, but to primarily highlight all the local growers in the region."
Expat has been showing off its roasted and brewed interpretations of coffee since Macnamara and fellow Australian Adam McAsey opened the company's first coffee bar with a 1-kilo roaster in 2017. 
Since then Expat has expanded to occupy two full-service cafes that also act as training facilities for wholesale and for Indonesian barista competitors lacking training resources elsewhere, according to Macnamara. The second Expat location opened last year on the Bali Beachwalk, while the South Bali, Seminyak, location features an upstairs training bar outfitted with World Barista Championship equipment for training purposes.
The intense focus on training — which is typically led by Expat staff — is all part of the company's founding vision to be a resource for the local and regional coffee community of Bali.
"I want to provide access to knowledge and research," Macnamara said. "When I came to Indonesia, there didn't seem to be a sense of community in specialty coffee. In the last few years, it has changed a lot."
Related Reading